The festive season is a time of joy, a time of giving, and a time of showing appreciation. For businesses, it's also a crucial period to strengthen relationships with clients, employees, and partners. Corporate gifting is a long-standing tradition, but it's not always easy to pick the right gift. In this blog, we'll discuss why high-quality dates and dry fruits are the ideal choice for corporate gifts during the festive season.
Quality Speaks Volumes
When it comes to corporate gifts, quality is key. A high-quality gift shows that you value the relationship and want to invest in it. Premium dates and dry fruits are not just delicious, they also offer a touch of luxury that can leave a lasting impression. It's a simple yet effective way to stand out and make your gift memorable and special.
Customization Makes It Special
Corporate gifting often involves sending gifts to various people, each with their own preferences and tastes. The beauty of customized boxes is that they offer flexibility. You can customize your gift to suit the individual, whether it's a selection of flavoured dates, an assortment of dry fruits, or a mix of gourmet snacks. It's a personalized touch that can make all the difference.
Health Is Wealth
In today's health-conscious world, a gift that offers health benefits is sure to be appreciated. Premium dates and dry fruits are not just tasty; they're also packed with nutrients. It's a thoughtful way to show that you care about the well-being of the person receiving the gift.
Easy and Convenient
The festive season is a busy time, and the last thing you want is to add more stress. Choosing a gift that's easy to order and deliver can save you time and effort. Plus, a well-packaged gift can be sent directly to the recipient, making the whole process hassle-free.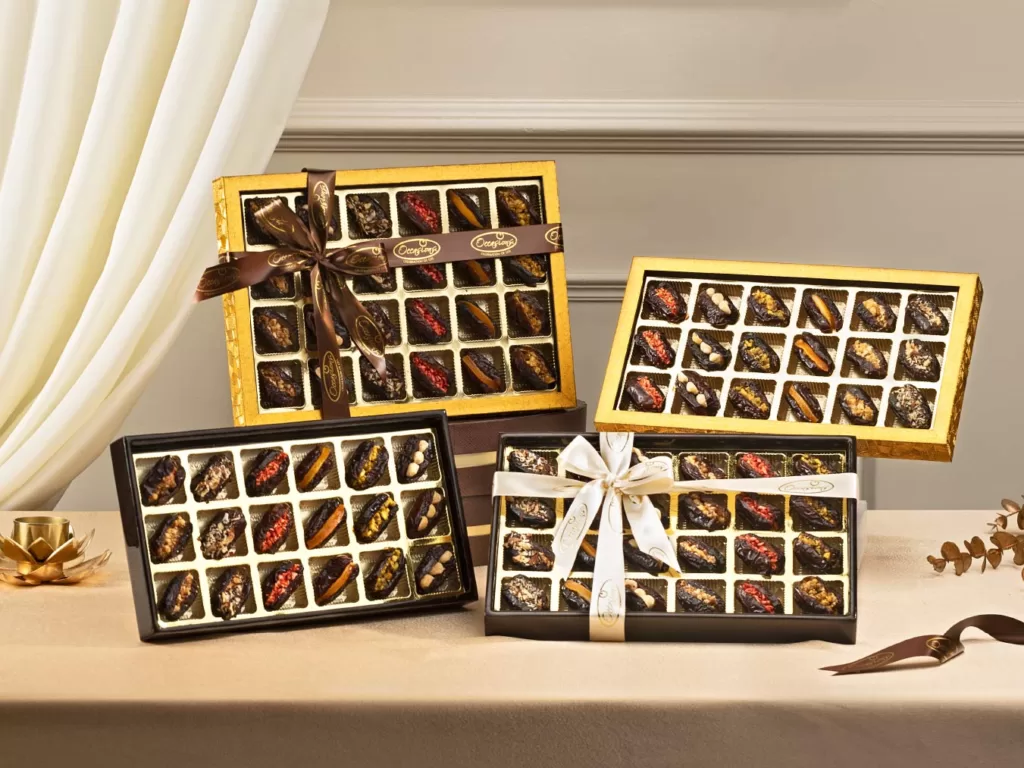 Wrapping It Up
The festive season is a golden opportunity to show appreciation and build stronger relationships. High-quality gift boxes offer a blend of luxury, health, and enjoyment, making them an excellent choice for corporate gifts. So, as you weigh your options this festive season, remember that a well-chosen gift is more than just a token; it's a message, a gesture, and a lasting impression.
If you're on the hunt for gifts that really say something, take a look at some of our special gift boxes. Our Dates Royale Round Box is a fancy treat with 24 different dates, great for making business relationships even stronger. If you're into nuts, the Nuts Galore Jar Box has four jars of top-notch dry fruits, showing the strong bonds you have with your business partners. And for a gift that's as nice to look at as it is to eat, our Magnetic Elegance Blue and Green Box is filled with top-notch dry fruits and dates, all wrapped up in a box that's a feast for the eyes.
FAQs
Can I include a personalized message with my corporate gift from Occasions?
Yes, we offer the option to include a personalized message, making your gift even more special.
How can I place a bulk order for corporate gifting with Occasions?
Placing a bulk order is simple. Just contact our customer service, and we'll guide you through the process, ensuring that your gifts are delivered on time.
Does Occasions offer any health-conscious options?
Absolutely. Our range of products are not just delicious but also packed with nutrients. It's a thoughtful way to show you care about the well-being of the gift recipient.
Can Occasions customize gifts to suit individual preferences?
Yes, we offer a range of customization options. You can create a unique gift package that includes a selection of our premium dates and dry fruits
Can I get a sample before placing a bulk order?
Certainly, we can arrange for samples of our premium products so you can be confident in your choice before placing a bulk order.