The Super Benefits of Healthy Seeds for Weight Loss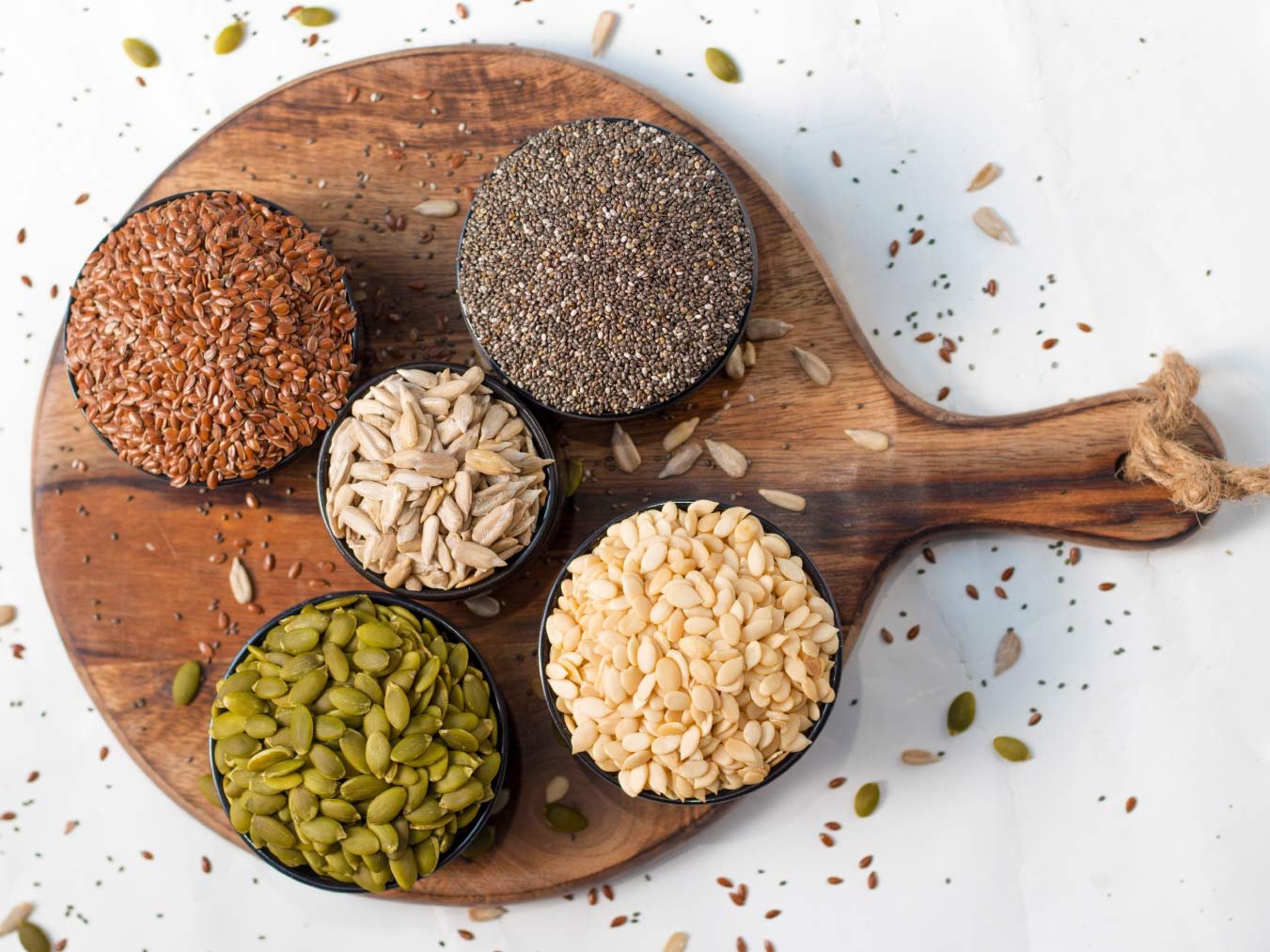 Seeds are not only tiny powerhouses of nutrition but can also be effective allies in your weight loss journey. Packed with essential nutrients, fiber, and healthy fats, certain seeds offer unique benefits that can aid in weight management. In this blog, we will explore the superpowers of Flax Seeds, Basil Seeds (Sabja), Chia Seeds, Cucumber Seeds, and Charmagaj, and how they can contribute to your weight loss goals.
Flax Seeds – Roasted:
Omega-3 Fatty Acids: Flax seeds are rich in omega-3 fatty acids, which help reduce inflammation and promote weight loss.
Fiber Boost: The high fiber content of flax seeds promotes feelings of fullness, reduces appetite, and aids digestion.
Hormonal Balance: Flax seeds contain lignans that may help regulate hormonal imbalances, which can impact weight management.
Basil Seeds (Sabja):
Natural Detoxification: Basil seeds act as a natural detoxifier, aiding in the elimination of toxins from the body and supporting weight loss.
Hydration and Satiety: When soaked in water, basil seeds form a gel-like substance that promotes hydration and helps curb appetite.
Digestive Health: Basil seeds can help alleviate digestive issues, such as bloating and constipation, making weight loss efforts more effective.
Chia Seeds:
Satiety and Reduced Caloric Intake: Chia seeds absorb liquid and expand in the stomach, promoting a feeling of fullness and reducing overall calorie consumption.
Stable Blood Sugar Levels: The high fiber and protein content of chia seeds help regulate blood sugar levels, preventing spikes that can lead to cravings and overeating.
Energy Boost: Chia seeds provide sustainable energy, which can enhance workout performance and support an active lifestyle.
Cucumber Seeds:
Antioxidant Power: Cucumber seeds are a rich source of antioxidants that help protect the body against cellular damage, contributing to overall health and weight management.
Diuretic Properties: The diuretic effect of cucumber seeds aids in flushing out excess water weight and reducing bloating.
Nutrient Density: Cucumber seeds contain vitamins, minerals, and fiber, providing nourishment while keeping calorie intake low.
Char magaz:
Protein Punch: Charmagaz, also known as melon seeds, is rich in protein, which promotes satiety and helps preserve lean muscle mass during weight loss.
Metabolism Booster: The nutrients in charmagaz support healthy metabolism, aiding in the efficient burning of calories and weight loss.
Nutrient Profile: Charmagaz is a good source of essential vitamins, minerals, and healthy fats, offering overall nutritional support during weight loss.
Incorporating flax seeds, basil seeds (sabja), chia seeds, cucumber seeds, and char magaz into your diet can provide numerous benefits for weight loss. From their fiber content that promotes satiety to their ability to stabilize blood sugar levels and boost metabolism, these seeds offer unique superpowers that can support your weight loss journey. Remember to incorporate them mindfully and consult with a healthcare professional if needed. Embark on your weight loss adventure with these powerful seeds and enjoy the benefits they bring to your overall health and well-being.
Choose from the Trendsetters