Dates have long been a favourite for those who want a sweet, nutritious snack. They're full of fiber, vitamins, and minerals, making them a healthy choice. But now, dates are stepping into the spotlight in a whole new way. For the first time ever, Occasions brings to you dates stuffed with exciting fillings like Lotus Biscoff, Sugar-Free Pista, Sugar-Free Berries, Cookie, Ferrero Rocher, Black Currant, and many more
A New Way to Enjoy Dates
These aren't your average dates. Imagine the surprise and delight of biting into a date and finding the rich taste of Ferrero Rocher or the creamy texture of Lotus Biscoff. It's a snack that's both familiar and new, offering a unique blend of flavours and textures. And for those who are mindful of sugar, we've got options like Sugar-Free Pista and Sugar-Free Berries to keep your snack game strong without the guilt.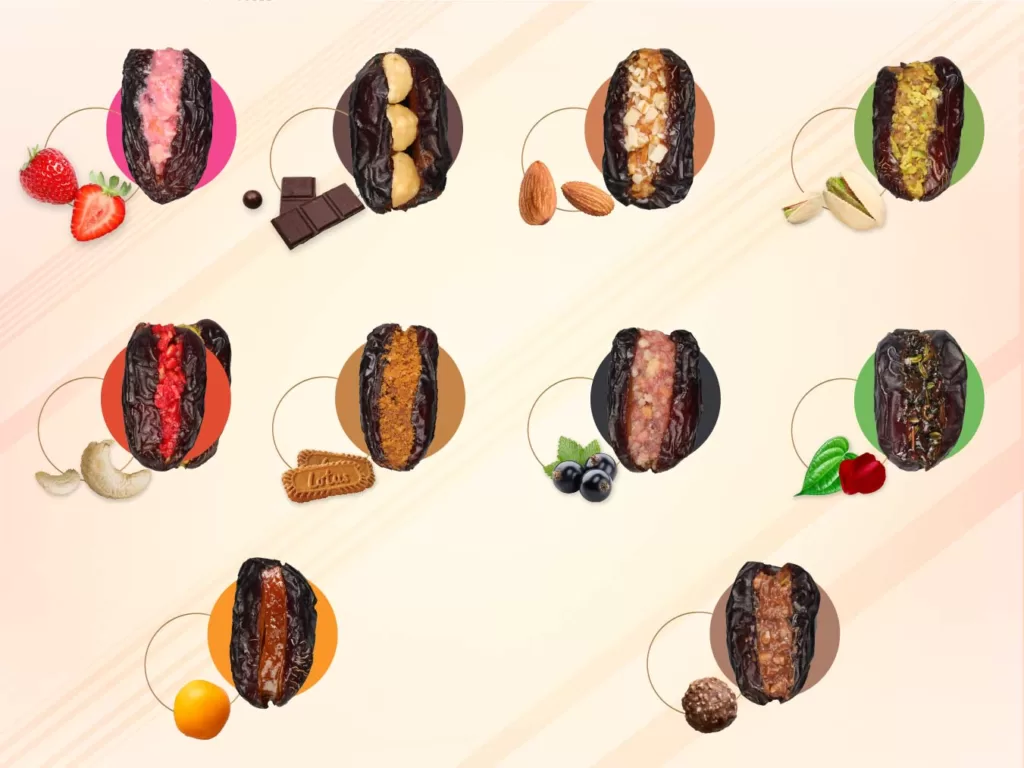 More Than Just a Snack
While these stuffed dates are perfect for snacking, they're versatile enough for other uses too. Add them to your cheese board for an unexpected treat, or use them as a unique topping for desserts. The possibilities are endless, and each option adds a touch of gourmet flair to your dish.
Craftsmanship and Care in Every Bite
What sets these stuffed dates apart is not just the innovative fillings but also the craftsmanship that goes into each piece. These aren't mass-produced snacks, they're artisanally prepared with attention to detail. From selecting the finest dates to carefully filling them with high-quality stuffings, each step is carried out with precision and care.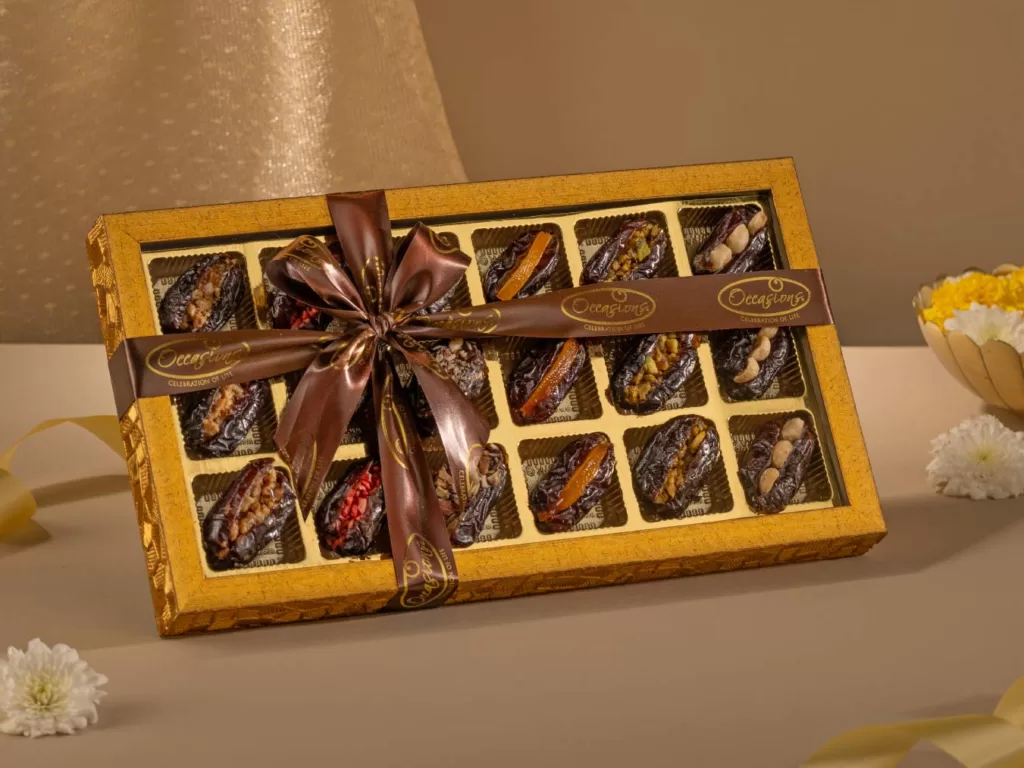 The Perfect Gift? Yes, That Too
If you're looking for a gift that's a bit different, these stuffed dates are worth considering. They offer a unique twist on a classic, making them a memorable choice for anyone who enjoys fine food. Whether it's a gift for a client or a treat for a friend, these dates are sure to make an impression.
Why You Should Try Stuffed Dates
In a world where we're always looking for the next big thing, these stuffed dates offer something new and exciting. They're a modern twist on a classic snack, perfect for anyone who appreciates a bit of luxury in their everyday life. Plus, they come beautifully packaged, adding an extra touch of class whether you're enjoying them yourself or giving them as a gift.
So, whether you're looking for a new snack to enjoy or a unique gift to give, these stuffed dates are worth a try. They're not just a tasty treat, they're a whole new way to experience a classic favourite.
FAQs
What kinds of fillings are available for the stuffed dates?
We offer a variety of exciting fillings like Lotus Biscoff, Sugar-Free Pista, Sugar-Free Berries, Cookie, Ferrero Rocher, Black Currant, Paan and Orange peel
Are these stuffed dates healthy?
Yes, dates are naturally nutritious, and we also offer sugar-free options like Sugar-Free Pista and Sugar-Free Berries for those who are health-conscious.
​​ How do I store the stuffed dates?
It's best to store them in a cool, dry place to maintain their quality and freshness.
Where can I buy these stuffed dates?
These are exclusively only available at our stores and on our website
Are there any bulk purchase options?
Yes, we offer special pricing for bulk orders, whether it's for personal use or gifting.