Chocolate has always been a symbol of indulgence and joy, making it one of the most popular gifts for any occasion. As the festive season approaches, the search for the perfect gift begins, and what could be more perfect than chocolate? But we're not talking about just any chocolate. Occasions is proud to introduce our newly launched range of chocolates that take this classic gift to a whole new level.
A New Way to Savour Chocolate
Our new chocolate line is not your average treat. We've got something for everyone, from the Smoothie Almond and Smoothie Cashew for those who love a creamy texture, to the Rock Almond and Rock Cashew for fans of a crunchier bite. And let's not forget the luxurious Smoothie Hazelnut and Rock Hazelnut options, as well as our Intense Chocolate for the purists. For those who like a little bit of everything, our Assorted Chocolates box is the way to go.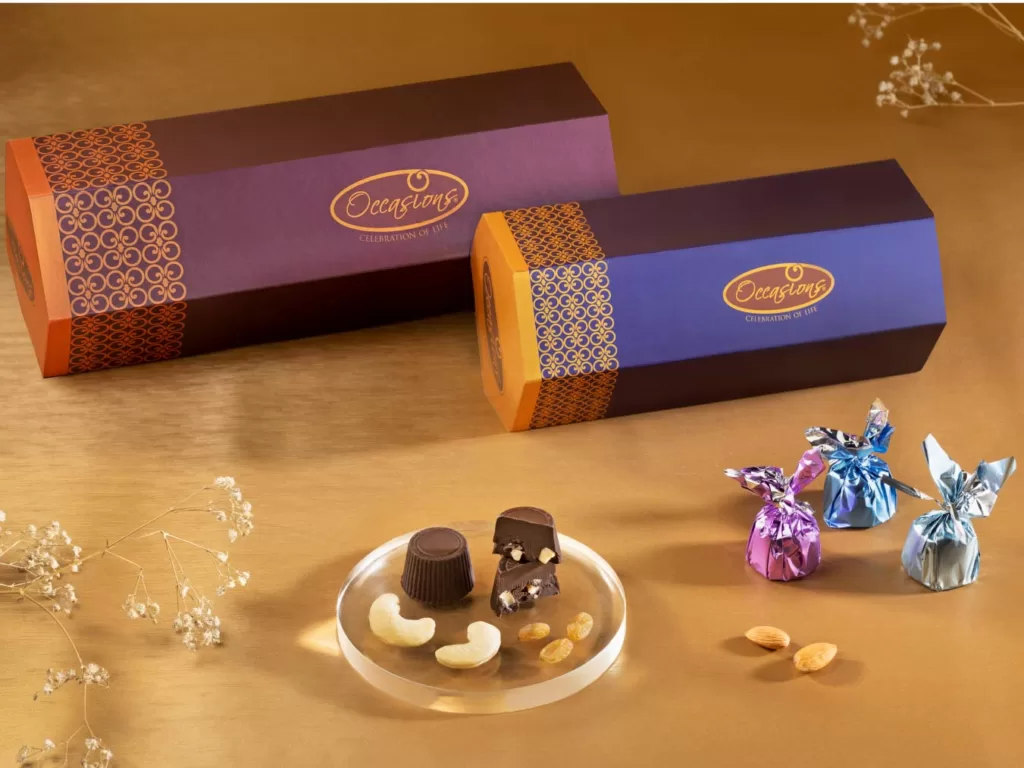 A Thoughtful Option for Everyone
In today's health-conscious world, even those who have to watch their sugar intake should not miss out on the joy of chocolate. That's why we've included Sugar-Free Chocolates in our new range. Now, even diabetics can enjoy the sweet pleasure of a well-crafted chocolate without any worries.
More Than Just a Sweet Treat
While our chocolates are perfect for satisfying your sweet tooth, they're also versatile enough for other uses. Imagine melting our Intense Chocolate to drizzle over desserts or using our Assorted Chocolates to create a luxurious gift basket. The possibilities are endless, and each option adds a touch of elegance to your festive celebrations.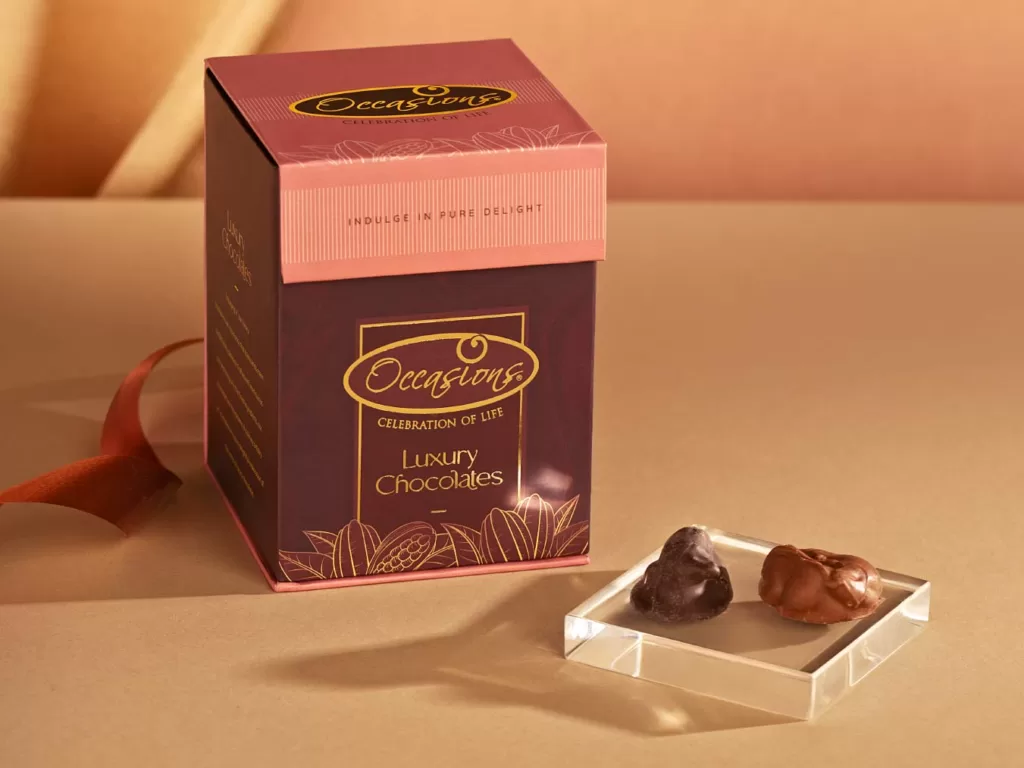 The Perfect Gift, Every Time
Chocolates are a tried-and-true gift, but our new range elevates this classic to something truly special. Whether it's a gift for a client, a treat for a friend, or a festive family gathering, these chocolates are sure to impress. Beautifully packaged and exquisitely crafted, they make for the ideal gift this festive season.
Why Choose Occassions
In a world full of options, our chocolates stand out for their quality and variety. They're a modern twist on a timeless gift, perfect for anyone who appreciates the finer things in life. Plus, they come beautifully packaged, making your gift even more special.
Craftsmanship in Every Bite
What sets our chocolates apart is the craftsmanship that goes into each piece. These aren't your run-of-the-mill chocolates, they're carefully crafted to ensure each flavor profile shines through. The almonds, cashews, and hazelnuts are selected for their quality, and the chocolate is tempered to perfection, offering a smooth, satisfying texture.
So, as you prepare for the festive season, consider our newly launched chocolates. They're not just a tasty indulgence; they're the perfect way to show your appreciation and spread joy during this special time of year.
FAQs
What types of chocolates are included in the new range?
Our new range includes a variety of options like Smoothie Almond, Smoothie Cashew, Rock Almond, Rock Cashew, Smoothie Hazelnut, Rock Hazelnut, Intense Chocolate, Assorted Chocolates, and Sugar-Free Chocolates.
Are there any options for people with dietary restrictions?
Yes, we offer Sugar-Free Chocolates that are perfect for those who are watching their sugar intake, including diabetics.
Can I create a custom assortment of chocolates?
Yes, you can mix and match from our range to create your own custom box of chocolates.
How are the chocolates packaged?
Our chocolates come in beautifully designed packaging that adds an extra touch of elegance, making them great for gifting or personal enjoyment.
Do you offer gift wrapping?
Yes, additional gift wrapping options are available to make your gift even more special.